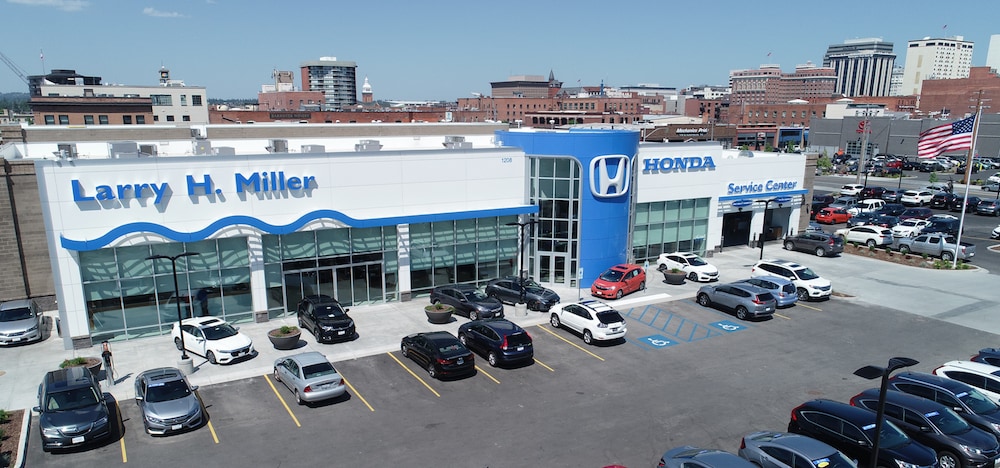 Larry H. Miller Downtown Honda Spokane has earned the Honda Environmental Leadership Platinum Award and has been recognized by American Honda Motor Co., Inc. as a leader in the company's effort to reduce the environmental impact of Honda dealerships in communities across the nation. The dealership is one of only 46 in the country to achieve the Platinum level.
The dealership earned the award for achieving specific environmental targets based on a rigorous points system that includes reducing total energy use at the dealership by at least 10 percent.
"We're extremely proud to be part of Honda's global effort to help preserve and protect the environment," said Andrew Cowart, general manager, Larry H. Miller Downtown Honda Spokane. "Our customers already benefit from owning a fuel-efficient Honda vehicle, but now they have the extra peace of mind knowing that they're supporting a local Honda dealer that is committed to environmentally-responsible business operations."
The dealership has taken numerous steps to reduce its environmental footprint and to earn the Honda Environmental Leadership Award, including:
A lighting control system equipped with a programmable relay panel, timeclock, occupancy sensors and dimmers

More than 90 percent of the lighting inside and outside of the dealership is LED

All HVAC units use seven-day programmable thermostats and are high-efficiency units with a rating of 15 SEER or higher

All plumbing fixtures are low-flow. There is no turf or high water use landscaping.

The building envelope was specifically designed to reduce air infiltration. Window systems and glass doors are thermally-broken with low-e glazing that reduces solar heat gain in the summer and heat loss in the winter. A cool roof was used to reflect light, reducing heat gain through the roof in the summer.
Honda introduced its voluntary "Green Dealer" program to its U.S. automobile dealers in the fall of 2011 and later extended the program to its independently-owned powersports and power equipment dealers. The company uses a third party evaluator to conduct environmental audits of participating dealers and recommend strategies for reducing their energy use. To date, participating dealers across the company's automobile, power equipment and powersports lines have collectively reduced CO2emissions by more than 87,000 metric tons and saved more than $19 million in energy costs.
For the past three decades, Honda has been working to reduce the environmental impact of its products, manufacturing and logistics operations, and facilities in North America. These initiatives are reported annually in the company's North American Environmental Report. Expanding its environmental initiatives to its dealer body was a logical step in the company's effort to reduce waste, energy use and CO2 emissions across the full spectrum of its operations and throughout the lifecycle of Honda products, including at the point of sale. Together with its dealer network, Honda is working to realize its vision for a carbon-free society.
For more information on the Honda Environmental Leadership Program, please visit greendealer.honda.com.